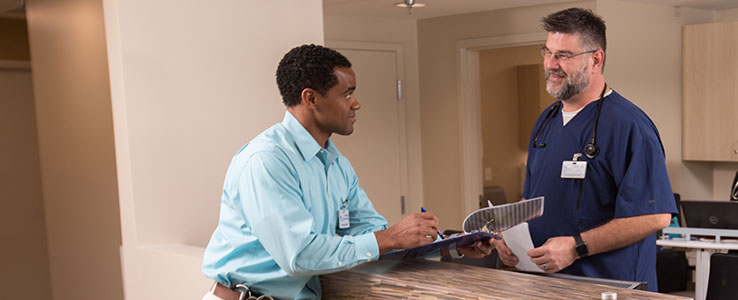 There are many reasons to give to the Community Health Center of the New River Valley. As a private, non-profit 501(C)(3) organization, we rely on your support to meet our goal of serving as a local health care "safety net" for residents in our community.
One way to donate is through a commemorative gift. Commemorative gifts present a unique opportunity to honor a loved one, a friend, or a business associate while helping others.
An honor gift can be an expression of thanks, appreciation, congratulations, or best wishes in recognition of a birthday, graduation, promotion, anniversary or recovery from illness or accident.
Commemorative gifts also provide a thoughtful and meaningful way to express sympathy when a family member, friend, or relative of a friend passes away. Furthermore, a memorial gift is a lasting tribute when the deceased is remembered with a gift in future years on special occasions such as their birthday or Memorial Day.
When you share your expression of caring through a commemorative gift, you become a part of our efforts to make a meaningful contribution to the community.
Ways to donate
1. Donate online by clicking the link below.
2. Gifts of Cash (or Credit Card Charge)
Make an unrestricted donation or designate to a Community Health Center program of your choice (patient assistance, medical, dental, medication assistance, or behavioral health).
Send a check or money order to:
Community Health Center of the New River Valley
215 Roanoke St.
Christiansburg, VA 24073
or
Provide a credit card number to our Human Resources Director at 381-0820.
3. Bequests
For those who wish to make larger gifts that would be bestowed at the end their lifetime, a bequest may be useful. A bequest in one's will can be stated as a percentage of an estate, or as a fixed amount. It can be for general purposes, or for a specific program or service. Adding a bequest to an existing will is very straightforward. Click here for the suggested language to include a gift to our nonprofit in a Last Will and Testament.
4. Commemorative Gifts
Make a contribution in honor or memory of a friend or loved one. If you wish, the family of the deceased, or person honored, will be notified of your gift.
5. Gifts of Securities
Gifts of appreciated stocks, bonds, or mutual funds can provide special tax advantages, such as a charitable deduction for the full market value of the gift, and avoidance of capital gains taxes. Gifts made before December 31st may be a tax deduction and may bypass capital gains on a stock transfer. For more information consult with your broker or tax advisor.
6. Corporate Matching Gifts
You may be able to multiply the value of your gift by participating in a matching gift program provided through an employer or board membership. Gifts from retirees and spouses may also qualify for a match. Your employer's personnel office can provide you with information to take advantage of this unique leveraging opportunity.
7. Give BIG New River Valley
You can give to us by following this link to Give BIG New River Valley's Community Health Center endowment fund: Give BIG New River Valley. This fund benefits the Community Health Center and was established by the Community Foundation of the New River Valley and their 'Give BIG' campaign.
Valued Partners Spotlight
Thank you for more than a decade of providing marketing and advertising services to the Community Health Center. We truly appreciate and value our partnership with you.
Thank you for ten years of providing outstanding IT services to the Community Health Center. We truly appreciate and value our partnership with you.
---
We are so thankful for our decades long partnership with the United Way. With their support, we have provided countless community members with much needed medical and dental services.
---
We value our long-standing partnership with the Virginia Health Care Foundation. They have given us so much support in a variety of service areas and we are truly thankful.