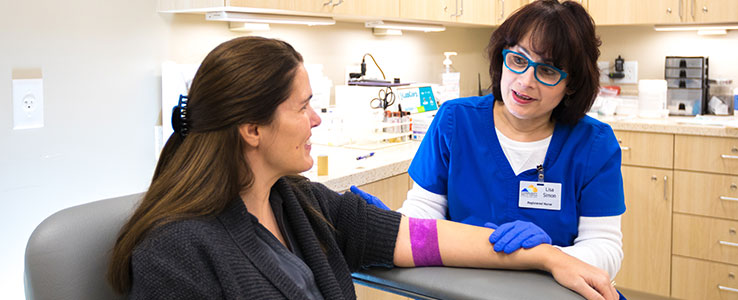 The Community Health Center does not deny anyone primary healthcare services. We serve all ages, regardless of insurance status. This means we serve anyone who: is uninsured, has Medicaid, Medicare, or is insured with private insurance. This includes our Christiansburg, Radford/Pulaski and Pearisburg locations.
The first step in becoming a patient at the Community Health Center of the New River Valley is to complete a Welcome Packet.
If you would prefer to print out the application and complete it at home, you may download it here.
Discount Fee Program
The Community Health Center is pleased to offer financial assistance to eligible individuals and families through our Discount Fee Program. This program applies to medical, dental, and behavioral health services; however, our medical, dental, and behavioral health departments each utilize a different discount fee scale. If you are interested in applying for the Discount Fee Program, the forms are included in the application. Discount fees are available to all patients at or below 200% of the Federal Poverty Guidelines, with or without insurance coverage.

Becoming a Patient
We are accepting new patients.
If you are uninsured, please fill out the Patient Application and then call the Center to find out when you can meet with a Patient Services Representative to go over your paperwork. Once you have met with the representative, you can start making appointments. If you have insurance, please call the Center to schedule an appointment. Please have your insurance card ready so the front office can take your information. Additionally, complete the Patient Application and return it to the Center 30 minutes before your first appointment or anytime prior.
To become a patient or receive more information, please call one of our Center locations:
Giles Center
540.921.3502
Montgomery Center
540.381.0820
Radford/Pulaski Center
540.585.1310
We provide a 24-hour, after-hour messaging service for our patients.
804.729.5122
In the event that you are experiencing urgent but non-life threatening symptoms you may reach a provider after normal operating hours (8am-5pm). Examples of urgent but non-life threatening symptoms include: rash or hives, low grade fever, and urinary tract infections.
Medication refills and scheduling questions should be addressed during normal operating hours (8am-5pm).